The Biden administration is planning to push a 100% clean energy bill through congress, which would be the first of its kind on a federal level in the United States. Despite the federal government's four-year absence from major clean energy policy, many state legislatures have continued to progress towards establishing & achieving renewable energy goals. The prevailing phrase tying all of these state efforts together? Net-Zero Emissions.
While the United States still has great potential to provide leadership in the global push to combat climate change, it has been far from a trailblazer thus far. Spurred by 2015's Paris Climate Agreement, many other countries such as France, the UK, and New Zealand, have made serious commitments to reach a net-zero emissions economy by 2050. Although the US was one of the original participants, it withdrew from the agreement on June 1, 2017. To the relief of clean energy advocates across the globe, on January 20, President Biden signed an executive order to rejoin the agreement.
If the United States hopes to regain lost ground and meet the climate crisis head-on, infrastructure improvements such as a nationwide transmission network could be a piece of the puzzle. A successful 100% clean energy plan on the federal level will likely require significant investment in EV charging infrastructure, as well as energy storage solutions. In October, a study in the Zero Carbon Action Plan showed that the US must increase its clean energy generation capacity from the current 1,100 gigawatts to 3,000 gigawatts. That would entail roughly 100 gigawatts of capacity added each year from now until 2050, mostly from solar and wind.
What Does "Net-Zero Emissions" Mean?
Research has shown that global greenhouse gas (GHG) emissions must be halved by 2030 and achieve net-zero before 2050 if the world is to avoid the worst predicted climate consequences.
In light of this urgency, growing numbers of businesses and local governments have set net-zero emissions targets, with an increasing number of countries joining the initiative and pledging to achieve net-zero emissions by 2050.
So, what practical applications does this initiative entail? The primary factor, human-caused emissions, will need to be lowered drastically. Fossil-fuel-powered vehicles and factories will need to be replaced with renewable powered fleets and machinery. The second factor will be balancing any remaining GHGs with various carbon removal techniques, such as direct air capture & storage and restoring soil & forest growth.
Climate neutrality is the goal, and with the clock ticking faster than ever, the world will rely more heavily on renewables such as solar energy more than ever.
Which States and Cities Are on the Path to Net-Zero Already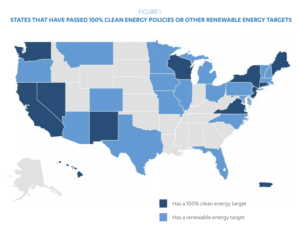 According to a report, last year by UCLA's Luskin Center for Innovation, seven states plus Puerto Rico and the District of Columbia have 100% clean energy laws. The bills were approved by their state legislatures, which were then signed into law by their governors. After early adopters Hawaii, California, and D.C., a wave in 2019 saw six laws adopted by: Maine, Nevada, New Mexico, New York, Puerto Rico and Washington State. Several other states have also introduced 100% clean energy legislation.
Despite a severe lack of federal action and renewable energy policy rollbacks, states have undertaken most of the responsibility of producing meaningful clean energy legislation in recent years. According to the same UCLA report, since 2000, approximately 50 percent of US renewable electricity generation and capacity has been driven by state renewable portfolio standards (RPS), also called renewable energy standards (RES), which specify the percent of retail electricity sales that must be supplied with renewable electricity.
Energy Storage Solutions & EV Charging Infrastructure Could Be the Key to Net-Zero Success
Research has shown that energy storage will play a crucial role in helping many countries achieve net-zero milestones. While building more generation capacity is essential, merely adding local storage solutions to existing solar PV systems could save hundreds of billions of dollars, according to leading modelers in the field. Doing so could also help meet net-zero timelines sooner rather than rely purely on new solar PV generation capacity to be built.
A recent research report by Accenture states: "The ability to deploy battery storage either at solar or wind farms enhances revenue opportunities of each asset, while deploying storage at brownfield asset sites significantly lowers interconnection-related costs. Battery storage is also being deployed as transmission system assets to address grid inefficiencies or localized pockets of congestion that would otherwise require costly infrastructure investments."
In addition to the clear benefits of pairing energy storage solutions with new or existing solar PV installations, businesses and non-profits can amplify the benefits and impact of solar or solar plus storage significantly with the addition of solar EV charging infrastructure. According to NREL's research piece on integrating electric vehicle cheating infrastructure into commercial buildings and mixed-use communities, many cities and states have aggressive goals for personal and fleet vehicle electrification. For example, the City and County of Denver set a goal of 30% vehicle being electrification by 2030, growing to 100% in 2050. Reaching ambitious goals like this will require significantly more charging stations at workplaces, homes, apartments, and public fast-charging stations.
Why Businesses & Non-Profits Should Embrace Net-Zero Policies
Businesses and non-profits that can get in front of this movement now, will almost certainly see generous benefits from solar EV charging and storage options. This is largely due to rebates and federal tax incentives that may only exist for a limited time, such as the Solar Investment Tax Credit (Solar ITC). Potential off-takers must consider the ability to lead by example, showing net-zero policy commitment to clients, members or customers.
Even in states without a full net-zero emissions policy in place, cities, counties, and especially individual businesses or non-profits can take a leadership role by acting early and showing environmental commitment ahead of state or federal policy. The significant cost savings are reason enough for many energy consumers. However, the potential financial benefits of taking a strong pro-environment stance are often overlooked.
C&I energy consumers that take advantage of solar, solar plus storage, or solar EV charging options ahead of state or federal legislative action will also have greater peace of mind as those laws are enacted. They will be much more likely to fit within renewable energy recommendations or guidelines already without requiring any further action.